Establishing a solid service plan with the purchase of your equipment or one for all of your equipment is a sure-fire way to ensure you stay up-and-running and provide peace-of-mind. Kalamazoo X-Ray Sales is committed to providing superior, prompt, and accessible service for all of our clients.
On-Call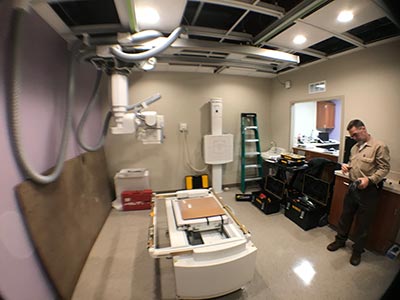 Choosing Kalamazoo X-Ray Sales for your preferred service provider allows you to have the advantage of KXS service when you need it. This option is perfect for smaller facilities or private practices that don't have a large number of units requiring service but still demand the highest caliber of service available. Our pricing is simply, consistent, and competitive without compromising quality.
Planned Maintenance (PM) for Digital
Whether you have one or many units, the best way to ensure your valuable equipment stays up-and-running and available when you need it is through a planned maintenance program. KXS offers a annually or semi-annually planned maintenance schedule where our technicians will come to you to calibrate and inspect your equipment. We will provide recommendations to you and your staff to keep your equipment in tip-top shape.
Preferred Labor
Maybe you have a large quantity of machines and will need service more often. Here is where our Preferred Labor is perfect for hospitals and other large networks. By establishing a set service fee in advance, you have the peace-of-mind of knowing your staff can contact a highly trained service technician when they are needed without having to go through purchasing or billing. This option is designed to save you money with discount pricing for service contracts.
Parts and Labor Premier
This total-service plan offers large clients complete assurance that your equipment will be taken care of by our experienced staff and with the best parts at the best prices. By grouping services and billing, you save your organization money while still maintaining high quality service with 50 years of industry experience.
Manufacturer's Service Plan
Kalamazoo X-Ray Sales also provides manufacturer's service plans with new equipment sales. Contact your account manager to learn more about these opportunities.